IMEXUS 37 DS
Extend the summer season with the IMEXUS 37 DS
The IMEXUS 37 DS is a seaworthy deck saloon yacht, which convinces with lots of living comfort as well as excellent sailing characteristics.
The deck saloon concept combines the living environment with sailing enjoyment on all levels, whilst the outside can be enjoyed even from below deck. The panoramic window of the spacious saloon offers a 360 degree view while sailing and a light-flooded living space in all areas of the yacht.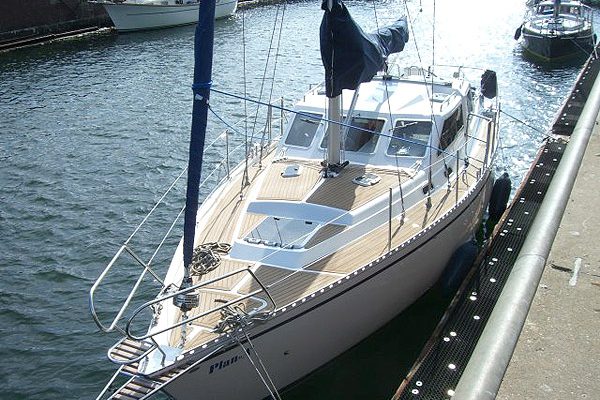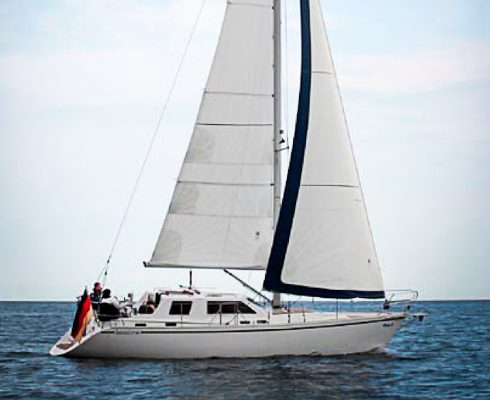 IMEXUS 37 DS – Performance
Due to the slim fuselage shape, the IMEXUS 37 DS dives smoothly into the wave and can prove its well sailing quality.
The theoretical hull speed of 7,8 knots can be achieved regularly, even with a gentle breeze. Already with a wind force of merely 3 Beaufort the boat scores 5,7 knots.
For an easy handling all halyards and hauls are directed to the cockpit, to sail the IMEXUS 37 DS fast and conveniently also with a small crew. Altogether the boat sails very stable and with a finely controllable behaviour.
'Thanks to the deck saloon, sailing trips can also be made long after the summer season'
The cockpit on board of the IMEXUS 37 DS is low-lying and large-dimensioned for six to eight people.
For a better view the helmsman sits on a curved aft bench during sailing. Below the comfortable seats are four large lockers, which serve as stowage for the nautical equipment.
The entire deck is covered with easy-care and beautiful Flexi-Teak. Moreover the deck saloon prevents splashing water in the cockpit.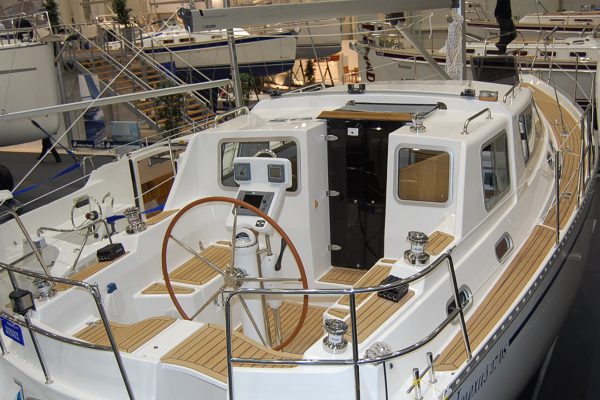 'For cruising sailors who appreciate good comfort and plenty of living space below deck'
On board offers the IMEXUS 37 DS with its spacious living area, the master cabin as well as two further guest cabins lots of space for six to eight persons.
The deck saloon disposes a headroom of 2,30 m that even great people are able to stand upright and conveniently.
The comfortable lounge can be converted in two more sleeping places and serves cosy seats for six to eight individuals too. That way friends can be invited to a familiar dinner on board.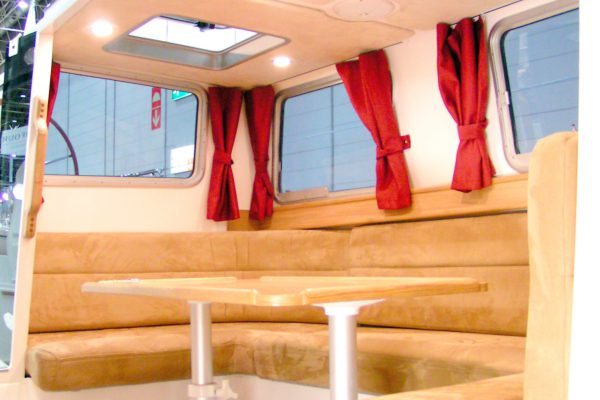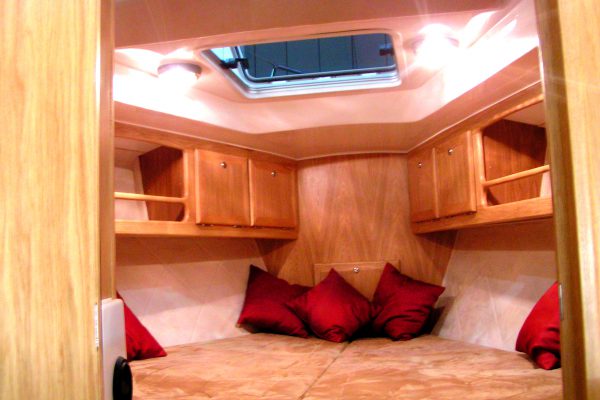 Thanks to the deck saloon and the spatial distribution at several levels the IMEXUS 37 DS offers below deck almost three square metres more living space than conventional sailing boats of this size with the result of generous and homely cabins.
The master cabin in the bow has a headroom of 1,84 m and a comfortable v-double-berth, which serves plenty head and leg freedom. To take along the main belongings on long sailing trips, the IMEXUS 37 DS disposes much stowage.